VolumeNode


VolumeNode is a free-to-use product that adds Windows multimedia sound volume control to any keyboard. The program is designed to be configurable and easy to use.

VolumeNode is a companion software for CursorNode. It is not necessary to run CursorNode while using VolumeNode. However, CursorNode must be installed for VolumeNode to work. This is because VolumeNode uses some software components of CursorNode.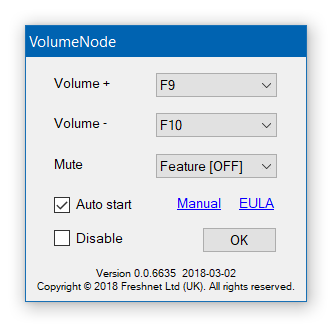 Download
EULA


Install

It may be necessary to extract the installer .msi file from the downloaded zip file before installing. If installing directly from the zip file by double clicking the contained .msi file, a compression/archiving program may open it and display its content. An install cannot be initiated that way.

VolumeNode is compatible with all Windows versions from Windows 10 to XP.

The program is uninstalled from the Windows Programs & Features facility. Uninstall does not remove the small amount of data saved by VolumeNode to the Windows registry. The user can manually remove the unwanted data using regedit.exe by deleting the registry key: Computer\HKEY_CURRENT_USER\Software\VolumeNode



Errors

The Auto Start option not working

Toggling the Auto Start option a couple of times will reset the auto starting mechanism.


A referral was returned from the server

This error may pop up on VolumeNode start. This indicates that either VolumeNode or CursorNode is out-of-date, or that CursorNode is not installed. This can be fixed by installing the latest version of both VolumeNode and CursorNode. CursorNode has its own installer and is downloaded separately.



User manual (for Windows 10)

F9 decreases sound volume. F10 increases sound volume. VolumeNode always minimizes to the Windows System Tray. Right-clicking the VolumeNode System Tray icon brings up available options. The Close option shuts down VolumeNode.

All features are under development. Please check back from time to time to get the latest release with improved or new features.



Release history


| | | |
| --- | --- | --- |
| Date | Version | Main features |
| 2020-01-02 | 0.0.7306 | Adjustments. |
| 2018-03-05 | 0.0.6638 | Features implementation. |
| 2018-02-27 | 0.0.6632 | Established initial program features and structure. |